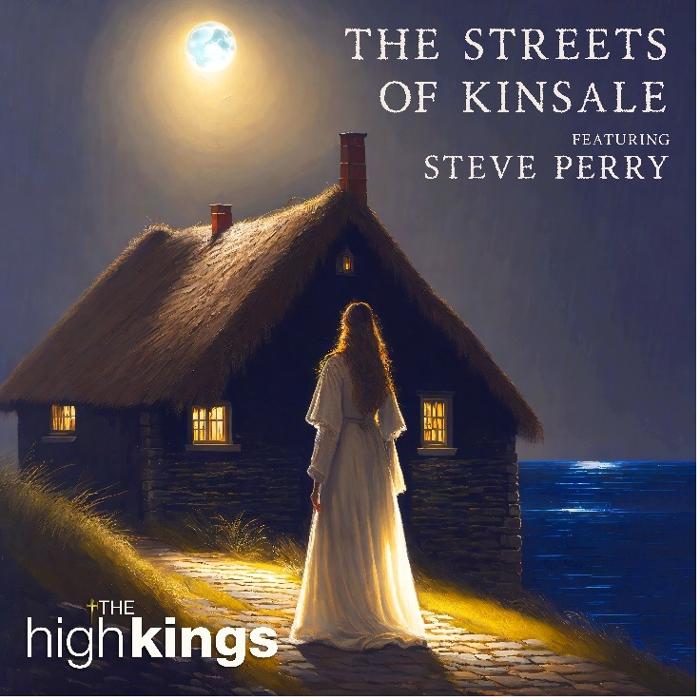 We are delighted to share our brand new single
The Streets of Kinsale'
by The High Kings
Pre save it HERE
'The Streets of Kinsale' by The High Kings, featuring Steve Perry (Journey) was written and produced by Glen Power (The Script). A unique and fresh folk anthem featuring a trifecta of musical talents. It's the telling of a true love story, its complexity and simplicity in equal measure, prevailing through the passing of time. All set in beautiful Kinsale, Ireland.
Speaking about the single writer and composer Glen Power (The Script) said:
"Bringing the iconic story of The White Lady of Kinsale to life through music was an absolute honour. Having been in Kinsale many times, I knew the story, but when the melody came into my head at first, I knew it had to be married to her story. The inspiration to write it came so suddenly it almost seemed like fate and it wrote itself. It already sounded timeless."
Securing the collaboration of iconic Journey frontman Steve Perry to both sing and produce the harmonies on the track with the High Kings was nothing short of inspirational. This partnership held special significance as it brought together two generations of music legends, melding the distinctive styles and creative energies of both parties.
Steve Perry's iconic status as the lead singer of Journey, one of the most successful rock bands in history, collaborating with Ireland's greatest Folk band, The High Kings. Together what they have created is indisputable. His powerful and emotive vocals, which defined hits like "Don't Stop Believing" and "Open Arms", have left an indelible mark on the music industry and now he leaves his mark on a brand-new Irish song.
Thus, having someone of Perry's calibre and influence involved in the project elevated it to new heights, generating immense excitement and anticipation among fans and critics alike.
'The Streets of Kinsale' is out Friday, April 28th 2023
across all major streaming platforms
The High Kings are currently touring their sold-out 'The High Kings XV Tour'